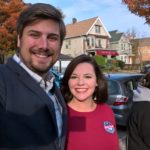 By Matthew Pelkey
In the beginning of 2016 my wife came to me with a proposition—she wanted to run for New York State Senate.
Against an incumbent. With a lot more money. And she wanted my help. At the time I had been immersed in the upstate startup ecosystem. That was all about to change.
We had always been a team in nearly everything we did, so by no means did this come as a surprise. A decade earlier I had spent some time in government myself so it wasn't completely foreign to me. And of course, I had regularly attended a mélange of political activities with my wife over the years. "Why not?", I thought to myself.